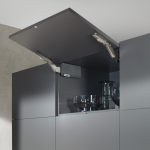 AVENTOS HK top Beautifully functional
AVENTOS HK top Beautifully functional
Though small in size, the stay lift inspires with many integrated features. That's what makes AVENTOS HK top the ideal solution for furniture where every detail counts.
Description
Cabinet dimensions
For cabinet heights of 205 to 600 mm and cabinet widths of up to 1800 mm.
Minimalist Design
AVENTOS HK top blends discreetly into tall units and wall cabinets. The stay lift has already won several awards for its minimalist design.
Integrated features
AVENTOS HK top boasts many integrated features (such as a safety mechanism and opening angle stop) which greatly facilitate assembly and installation. What's more, even large and heavy fronts open and close with ultimate ease.
Compact range
Just 4 types of lift mechanisms are needed to cover all applications. The lift mechanisms and front fixing brackets have been designed for symmetrical use.